2014-2015 Tryouts have been completed. Thank you to all of our participants.
2014 NCA COLLEGE NATIONALS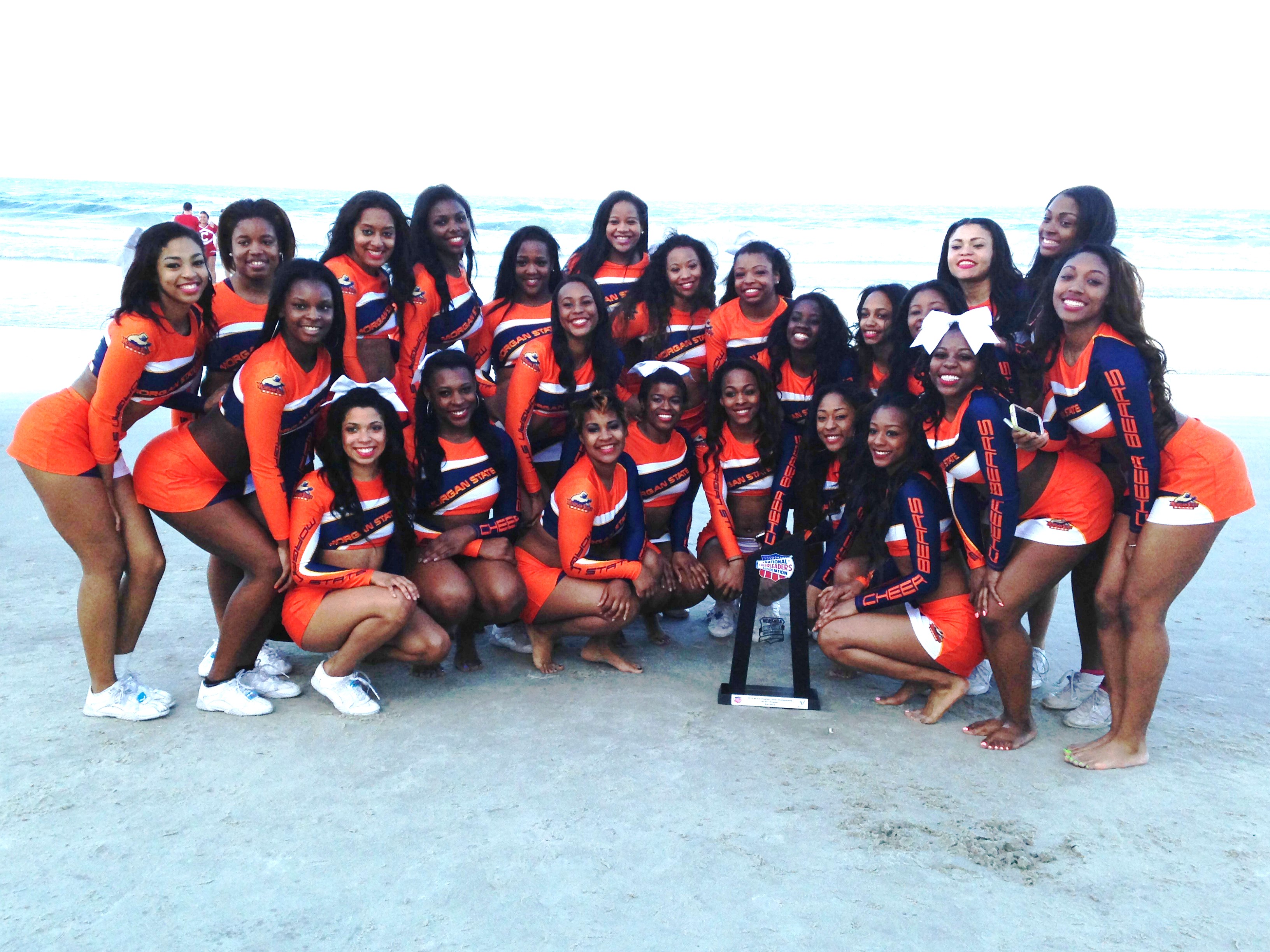 2ND IN THE NATION - All-Girl I
HOME OF THE
MORGAN STATE
CHEER BEARS
morganstatecheer@gmail.com
2014 - 2nd PLACE
NCA National
Collegiate Championship
ALL-GIRL I DIVISION
We would like to thank all April and July tryout participants.
Welcome to the world of
Morgan State Cheerleading
Morgan State University is a small HBCU located in northeast Baltimore, Maryland. There are approximately 7,000 students attending the university.

MSU Cheerleaders are considered part of the Athletic Department family and they follow NCAA rules for eligibility to participate in collegiate sports. All cheerleaders must maintain a 2.0 or above and carry a minimum of (12) credits. In order to be considered for a scholarship, a GPA of 2.5 or above is required.
At NCA Nationals, Morgan State has finished 6th, 8th, 10th, 12th, 14th when all Division I schools competed in the same division. In the All-Girl Intermediate Division they placed 3rd two consecutive years before moving up to the most recently added All-Girl I Division(Division I-AA) of NCA. In the three years the Cheer Bears have competed in All-Girl I, they have finished 6th (2012), 3rd (2013), and in 2014 2nd in the nation.
The Morgan State University Cheerleaders face a rigorous schedule every year. The team cheers at most away football games and all home football and men's/women's basketball contests. Under the direction of Theresa Gibson, Kim Watkins, and Letisha Lopez, and Tara Lynn Smith, members of the team are involved in community/university service as well as participating in at least 4-8 cheerleading competitions annually. Additionally, members of the Competition Team and some members of the Spirit team compete in the recently developed sport of College STUNT.