2019 TRYOUT DATES: APRIL 26-28TH, 2019.

(PLEASE CONTACT COACH GIBSON FOR SCHEDULING CONFLICTS.)

ALL CHEER APPLICATIONS SHOULD BE SUBMITTED BY APRIL 8th, 2019.

ALL DATES ARE TENTATIVE AND SUBJECT TO CHANGE.
TRYOUT FEE: $25 CASH ONLY.

Please bring your medical insurance card or email a copy front/back to: morganstatecheer@morgan.edu

You must have proof of sickle cell testing the first day of tryouts. Please schedule your test NOW!
Make Up Date is May 10th.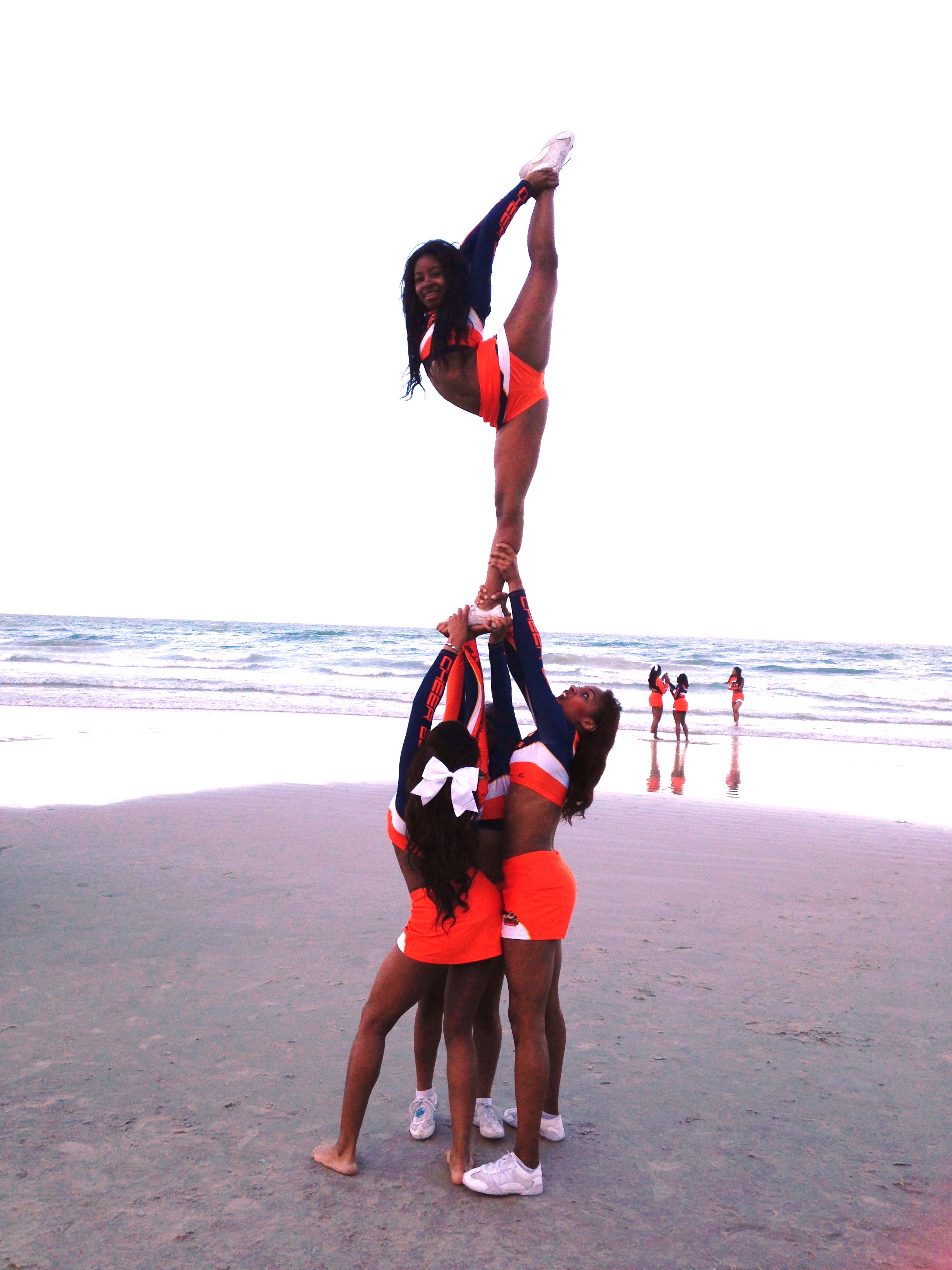 GET READY FOR TRYOUTS NOW!

All MSU Cheerleaders must learn cheers and dances for various reasons. Those not willing or able to pick up cheers and dances will experience difficulty being selected to the team. Although you make the team, you will not cheer until the coaching staff feels you are ready. Personal appearances, Homecoming, home games, Pep Rallies, etc... warrant it necessary for this to occur.

Jumps:
In order to be used for competitions, your jumps are expected to include pointed toes, proper form, and exceptional height.

Tumbling:
Standing Back Handspring, Standing Tuck, Toe Touch Tuck or Toe Touch Back Handspring.
Running Tumbling three or more consecutive back handsprings.
In order to compete:
Two or More Rapid Back Handsprings to a tuck, Two Toe Touches to a Tuck. Standing Two to a Layout/Full. Running tumbling must include a pass with a Layout, Step Out, or Full.

Stunting:
Main - Must be able to hold a major portion of a partner stunt.
Side - Must be able to support the main using proper technique and strength
Back - Must act as a brace for the flier while offering support to the main and side.
Flier - Must be able to balance in the air while utilizing proper technique (being tight and pulling her weight up) and showing above average flexibility. Tryouts will require the flier to demonstrate her skill in at least (3) single leg position as well as full ups. Additionally, she must be able to double down from stunts. The fliers used for competition will also be required to do a basket toss once on the team.

*** It is suggested that Larger/Taller fliers be prepared to stunt at a different position. We will move you to another position if needed.

Dancing:

Applicants should be prepared to pick up a fast paced choreographed dance quickly. Tight motions, confidence, appropriate facials, and mastering the moves will earn the highest points. Looking for a real show stopper!

Motions - A cheer and 1-3 chants will be taught. Tight motions, confidence, consistent eye contact, smiles, and mastering the motions will earn the highest points. Words need to be cheered versus spoken. Looking for showmanship.

Overall Cheerleader Image:

Poise, Pep, Confidence, Athleticism, Smiles, Fitness, Voice Projection, and Appearance (correct attire, neatly dressed, properly fitted attire, appropriate hair style, little or no visible tattoos are preferred). VISIBLE TATTOOS ARE FROWNED UPON!

Be prepared for a brief interview. This interview may determine squad placement.
2019-2020 Tryouts will be challenging!
Acceptance to MSU at the time of tryouts is NOT required. An MSU admissions office application should be on record at the time of tryouts. An MSU Cheerleading Application is required prior to or the day of tryouts.

All tryout applicants must submit proof of sickle cell testing prior to participating in Morgan State Cheerleading Tryouts! ADDITIONALLY, all applicants should have MSU Student ID # for verification that you have officially applied to Morgan State University. (This number is given to you by the Admissions office once you have submitted an MSU application.)

You will also need a current copy of your insurance cards front and back or the actual card.

Tryout fees should be cash. Receipts will be issued. A liability waiver form should be completed by a parent if the applicant is under the age of 18.

ALL APPLICANTS SHOULD WEAR CHEER APPROPRIATE HAIR STYLES EACH TRYOUT DAY. HAIR AND ATTIRE WILL BE SCORED EACH DAY. DO NOT ADVERTISE ANY OTHER TEAM'S NAME ON YOUR APPAREL.

Required Tryout Attire:

DAY 1 - APRIL 26th - 4:00 p.m. - 10:00 p.m. (approximately)

Black or Gray Cheer Shorts and Black, White, or Gray Fitted Tee Shirt/Sports Bra/Tank Top. No cut offs, jean shorts, sweat pants, or tights can be worn during tryouts. Clean White Cheerleading Sneakers/Clean White Ankle Socks or Footies - NO KNEE SOCKS!!! Light Make up.

DAY 2 - APRIL 27th - 10:00 - 4:00 p.m. - FIRST CUTS!!!
Required Tryout Attire: Black or Gray Cheer Shorts and Black or Gray Sports Bra, or Tank Top. No cut offs, jean shorts, sweat pants, or tights can be worn during tryouts. Clean White Cheerleading Sneakers. Clean White Ankle Socks or Footies - NO KNEE SOCKS!!!

DAY 3 - April 28th - 10:00 - 4:00 (approximately) - FINAL CUTS!!!!!
ALL REMAINING APPLICANTS MUST WEAR ORANGE and BLUE ONLY FOR FINAL CUTS.
Failure to wear these colors will result in a deduction to your score. Keep in mind, tryout scores weigh heavily in the scholarship selection process.

Sports Bra ONLY (Orange or Blue) No shirts! Full game day makeup. Wear a shade of red lipstick complimentary to your complexion. No eye glitter (collegiate image is different than the All-Star look), NO FALSE EYE LASHES! We will prefer a more natural look for the 2018-2019 season.

No pierced jewelry and no SPACERS for piercings are acceptable at tryouts or during the season. Tattoos are frowned upon. Please refrain from adding to your collection now or once on the team. EXCESSIVE TATTOOS CAN EFFECT YOUR OVERALL TRYOUT SCORE!

We are looking for the total package. We need enthusiastic, hard working athletes with charism, courage, crowd appeal,& and cooperative attitudes. Pep, enthusiasm, confidence, and showmanship are extremely important to the overall points of each applicant.

No Bandaids can be used to cover piercings/tattoos.

Please do not be expect to receive a spot during the tumbling portion of the tryout A spotter will only be provided at the discretion of the coaches. This means that if you do not have the required skill, please do not attempt to perform it.


| | | |
| --- | --- | --- |
| LET'S GO, BEARS! | | |
LET'S GO BEARS!